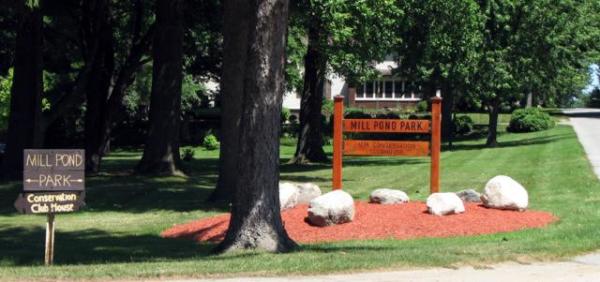 The park also offers many other opportunites to people of all ages.

BASKETBALL- Inside the large pavilion is a basketball court that has lights.

FISHING- The pond is great for fishing, and the pond is stocked with the help of money raised at the Mill Pond Festival.

WALKING/RUNNING- The park offers a variety of paved walkways for running and walking.
PLAYGROUNDS- There are 2 playgrounds on the park premesis and also a swingset located near the small pavilion.
Mill Pond park is home to the Union Mills Little League and Central Girls Softball, so the park sees a tremendous amount of use during the summer months.
Union Mills Little League has called Mill Pond Park home for many years and with the addition of another field in 2016 there are now 4 fields for use. With the new field being contructed, Central Girls Softball now calls Mill Pond Park home as well.